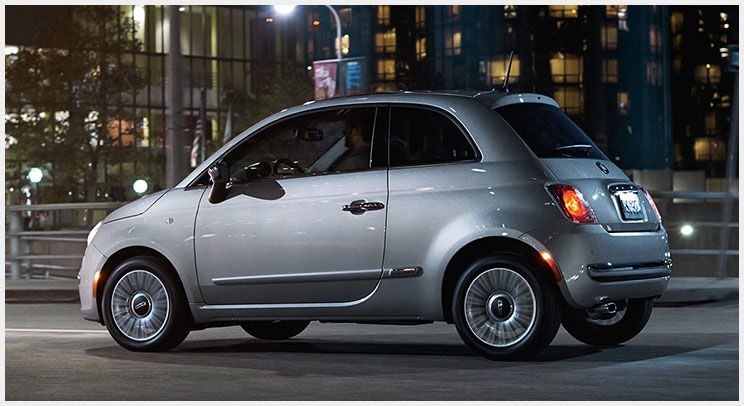 Teen drivers in Germany are in for a treat. The newest must-have car for the newly minted 16-year-old driver is the Fiat 500, but it comes with a twist – it's a three-wheeler. Due to a lower age requirement, many German teens start driving with an A1 motorcycle-class license that allows them to drive two- or three-wheeled vehicles. Since learning the rules of the road on two wheels can be quite dangerous, German company Ellenator engineered a safer alternative.
The modified 20 horsepower Fiat 500 can be driven with an A1 license because Germany's auto laws mean the vehicle is considered a tricycle. Reviews of the three-wheeled Fiat compliment the design for avoiding the pitfalls three-wheeled cars usually fall victim to, such as tipping over or looking awkward. One reviewer remarked that the driving behavior is not noticeably different from the four-wheeled version. Technically, the three-wheeled Fiat 500 has four wheels, but the rear two wheels are so close together that it behaves almost exactly like a true three-wheeler does.
Auto bloggers have praised the three-wheeled Fiat 500 for its appearance and features that surpass other three-wheeled cars on the German market. Safety features such as anti-lock braking, airbags and seat belts mean the three-wheeled Fiat is many times safer than a motorcycle. And despite the performance decrease, the peppy Fiat 500 is still able to reach a maximum speed of 50 mph. It's even legal to drive on the world-renowned German autobahn highway.
Why the Fiat?

The Fiat 500 is popular among European and American youth alike for its sporty looks and performance as well as the cool-factor that comes with the legacy of the Fiat 500. Interior luxuries available on the Fiat 500 such as comfortable seats, fold-down rear seats, Bluetooth, electronic windows and other features make the Fiat 500 an extremely alluring ride.
The Fiat 500 at Yark Fiat
The three-wheeled Fiat 500 may be a European exclusive, but you can take the production
Fiat 500
for a test drive today at
Yark Fiat
in Toledo, OH! Experience the performance and European charm of the Fiat 500 that comes in many models from the cool Fiat 500 Pop to the roomy
Fiat 500 X
. Performance is the name of the game with the impressive
Fiat 500 Abarth
edition that comes free with a day at the Bondurant Racing School.
Talk to our helpful staff to review affordable financing options and for answers to questions you may have about our inventory. Get the options you want in your Fiat today when you visit
Yark Fiat
in
Toledo, OH
.