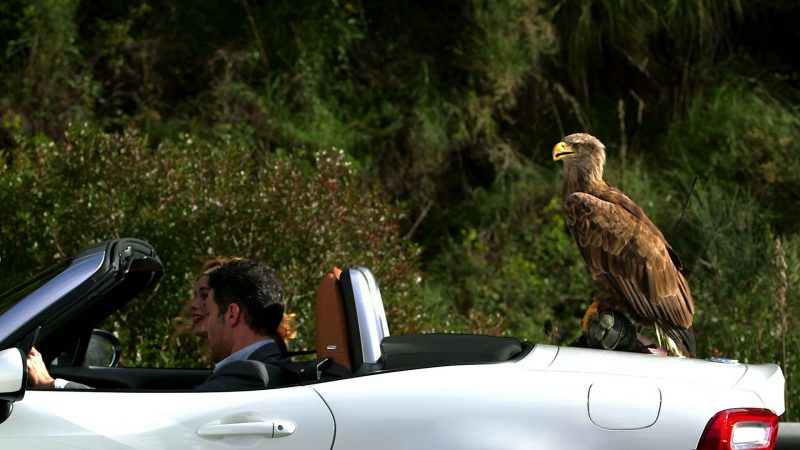 When you are about to release a new sports car, you need to catch some attention. Fiat has achieved that with its newest commercial for the Fiat 124 Spider that features everything you would expect to be associated with a sexy white convertible.
In Fiat's hot new commercial, a couple is taking a romantic cruise through a lush green landscape when a soaring white-tailed eagle catches their eyes. The viewer gets a bird's-eye view thanks to a small camera mounted to the eagle's back. Ultimately, the eagle catches the sporty Italian convertible and perches on the back of the Fiat to enjoy a quick ride.
With a commercial this engaging, Fiat 124 Spider drivers are going to be in for some adventure. If you live in the Toledo, Bowling Green, Monroe, Perrysburg or Maumee, OH, areas, now is the time to learn more about the Fiat 124 Spider from Yark Fiat.
The Eye is in the Details of the Spider Commercial
The Fiat 124 Spider is a cool car; there is no doubt about that. But where would be the coolest place to feature the Spider cruising about in the cool ocean breeze? The California coast might a great location, but it doesn't say Fiat like Italy does!
The Fiat 124 Spider commercial is shot on a winding seaside road in an Italian coastal town. And, if you are really paying attention, the only car the couple in the new 124 Spider passes is an antique 124 Spider!
Audio/Visual Stimulation
While the white-tailed eagle is gliding down from the sky because it is enthralled with the Fiat 124 Spider, viewers are also entertained by one of hip-hop's biggest stars for the commercial soundtrack – Wyclef Jean. Jean's song seems made for the 124 Spider, which only enhances the commercial.
Stop by Yark Fiat to see if the Fiat 124 Spider is half as cool as it looks in the "Free Like a Bird" commercial. We're certain it is!